We would love you to register for a year's membership to Web-and-Flow.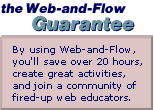 We can give you 10 Good Reasons why it's worth $25 USD/person. If you're a real hard sell, you can try it out free for 30 days, then register if you like it.
Note: if you're paying by credit card, the subscription fee is billed in Australian dollars ($41.00 including GST) which used to be as close as we could make it to $25 USD. However, since the weakening of the US dollar, the exchange will show up as something closer to $29.57 - $31.03 on your credit card account.
Also, due to horrendous bank fees for exchanging US checks, we can only accept checks from those groups requesting an invoice for more than 10 subscriptions. Sorry, but we try to keep costs to a minimum.
We have special pricing and support set up for whole college classes and district or statewide use. See our comprehensive packages for more info or contact us with the number of people you want to subscribe and we'll make a proposal for in-person and online support.
We guarantee you'll like Web-and-Flow. Thanks.