Introduction
Web-and-Flow is designed make your life easier and to help you create effective Web-based learning activities. You can think of it as a "rapid prototype tool." Yet even "rapid" requires some learning curve, so expect to spend a couple hours getting the hang of this software. If you learned Web-and-Flow in a workshop or class, this time can even be shorter. Once you know the basics of Web-and-Flow, we think you'll turn to it on a regular basis whenever you want a Web-based lesson for class tomorrow. So here are some tips to help you get off to a quick start.
Knowing What's Where at Web-and-Flow
If you looked around Web-and-Flow before registering, you were in what we call the main site. This has the log-in at the top and the white background. This is where you can find out all about Web-and-Flow. It could be worth spending some time here before you get into creating your own masterpieces.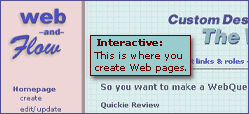 When you want to design your own Web-based activities, you register or log-in with username and password and automatically enter Web-and-Flow Interactive. Here's you create your own homepage and an infinite number and variety of Web-based learning pages. You'll use the pink menu to choose where to go to get started. This will usually be first the "Homepage" and afterwards "Activities - New" and "Activities - ongoing." But it's really up to you what order you do things.
Click the navigation bar at the bottom of each page to save and add what you've done to your Web pages automatically.
While you're using Web-and-Flow Interactive, you can access Help pages in two ways. First, they are always available from the left pink menu. Second, those that apply to a specific part of the design process are linked to along the way.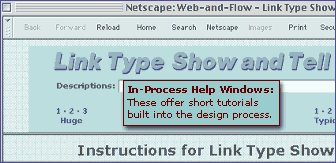 Create a Personal Homepage
Part of what makes Web-and-Flow unique and effective is that it's not just an interactive tool. It's also an online community. We use email, discussions, and chats to connect with each other. When everyone has a personal homepage, the human connections are even closer.

Also, for those relatively new to the Web, an introduction called Surf, Stumble, Search and Lurch is built into the Homepage process. So don't be shy, use the pink menu under Homepage to create your own. Do you want to see an example? Also, built into the process are the first two of the 10 Stages to Web-Use Nirvana. Once you have a personal homepage, click "edit/update" to make any changes.
Create a Web-based Activity

Once you have a personal homepage, choose "new topic" from the Activities menu in the pink border. Later you'll click "ongoing" to return to any activity you've already begun.

This is the heart of Web-and-Flow Interactive. You could start by developing a Creative Brief for your activity. This includes help choosing a topic, brainstorming a resource inventory for the activity, and identifying the learning goals and standards. This helps you achieve a vision for the activity and lets Web-and-Flow warm up its expert system.

Once you have the creative brief completed - or maybe you just want to start by seeing what's online for your topic - you're ready to Gather Links. Here you basically search Web sites and copy/paste the location (URL) into some text fields. All along the way you'll find online helps pages.

Once you've gathered enough links, you're ready to Customize your Design. First off, Tom March butts into your design process with some tips (this is the supposed "expert system"). Then you do what's needed to create the Activity Format you chose to scaffold student learning.

You'll end off with the Publication phase where you punch up a teacher's guide, double check your work, automatically announce your creation to the rest of our online community, and post your activity on the Web.

Let's get to it!