All About · FAQ · The Real? Story · As Courseware
---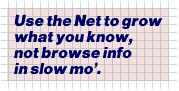 As frequent teacher in-service presenters and former college of education instructors, we've run into areas where having just the right tool would have made life far easier: easier for the facilitator as well as the learners. Web-and-Flow is just this tool. We've designed it to be friendly to newcomers as well as powerful for experts. What follows are suggestions and information on how Web-and-Flow can support teacher trainers and professors.
As Teacher In-service Tool
When working with teachers we've found two elements to be critical. First, whenever teachers are asked to give up classroom or afterschool time for professional growth, in-service sessions had better make the most of their time. Second, when teachers return to the classroom, they should have something practical they can immediately use with students or colleagues. Web-and-Flow is firmly founded on these two columns: efficiency and practicality. Use the Guided Tour designed specifically for teacher in-service sessions to see how you can use Web-and-Flow for after school or whole day sessions.
As College of Education Courseware
College courses provide a vital role in helping students / teachers to enhance their philosophy of education. As such, it's not enough for a Web or technology course to teach how to use software tools, but why and when. The expert system incorporated in Web-and-Flow is rooted in cognitive psychology, constructivism, and motivation theory, with debts owed to the work of such people as Robert Marzano, Marlene Scardamalia & Carl Bereiter, David Jonassen, and Bernie Dodge. By focusing on the front end design interface and the theories behind it, professors can help students master intentional or goal-based design, thus enhancing how students design any curriculum, Web-based or not. In addition, the speed at which learners are prompted through the development process will save precious class time. Finally, because research and experience shows that discussing design elements and cognitive choices encourages change and revision, the feedback loop built into Web-and-Flow promotes this evaluative process. For more specific details take a look at the Guided Tour for using Web-and-Flow in college courses.
Pricing
As mentioned in our FAQ, we run a lean operation with cost margins cut pretty slim, however, if you use Web-and-Flow with over 30 people we'll drop the price to $20/person/year. Compared to other training materials or software packages, this is far below the typical charges for things like curriculum packets, copyrighted course materials, textbooks, computer manuals, software programs. Also note that if a large publisher or software company ever bothered to produce anything just for teachers, you'd get to pay lots more to cover their overhead expenses. Finally, remember that users will be creating their own activities, so Web-and-Flow is a productivity tool that will continue to serve a purpose long after a training session or class has finished.
Focused Online Communications
Depending on the number of users, if there's critical mass for a more focused online community (for instance, a group of college of Ed classes), we can easily create a listserv to meet the need. Similarly, if the numbers are workable, we can hold some realtime online chats / conferences where we can kick around ideas together. This is another aspect of how our flexibility can respond to your needs / interests.
On-going Development
Here's where we can benefit each other even more. If Web-and-Flow is successful enough so that we don't have to design other people's Websites or online curriculum, then we can put our energies into making Web-and-Flow a more responsive site. If a we hear from a fair number of users that some feature or tutorial would really help them out, we can design it and build it into Web-and-Flow. Afterall, it's just brains, code and time that makes this stuff work. So our promise to you is that we'll do everything we can to make the site as helpful for you as we possibly can.