All About · FAQ · The Real? Story · As Courseware
---
Web-and-Flow is a new concept in professional development for teachers. It combines sound educational theory with an interactive process that supports teachers as they quickly create useful online products. And it does so cost effectively.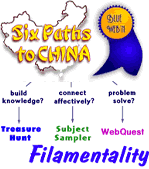 Former teachers Tom March and Jodi Reed have worked as Web-based instructional designers since 1995 and created sites like Blue Web'n, Filmentality, plenty of of WebQuests, and loads of training pages and online articles. Web-and-Flow integrates what we've learned into a speedy and smart design environment.
Specifically Web-and-Flow uses a project-based approach to professional development and collegial sharing. Rather than struggle through instructional design, HTML publishing, searching techniques and integration strategies as separate endeavors, Web-and-Flow brings all these elements together. You might find it helpful to read our Frequently Asked Questions file or take a Guided Tour. Those who learn best by getting right into things can start a Free Trial. If you're a trainer or professor, see how you can use Web-and-Flow as courseware for your classes or training sessions.
Web-and-Flow is a product of ozline.com and unlike big businesses with marketing departments, advertising costs, and teams of employees to pay, we're a lean operation that works the Web to our advantage. That's why we can charge just $25/person/year. And that's why we have to charge: we're in the early phases of raising families and setting in roots. In fact, you might like to read The Real? Web-and-Flow Story to get at the human aspects behind our project or our 10 Good Reasons to Pay. We also go about business differently: much of what we create we make available for free to the Web community. In turn, people write to us. Then when we want to interest people in becoming customers, we only send email to people who've expressed an interest in what we do. This way we're building a relationship, not blindly spamming the masses.