All About · FAQ · The Real? Story · As Courseware
---
The Web-and-Flow story is really a continuation of the ozline story, the tale of our emigration to Australia and the launch of our business. Since starting on June 1, 1998, we've developed Websites for clients, conducted keynotes and workshops, ventured into a couple WebQuest partnerships, and developed Web-and-Flow.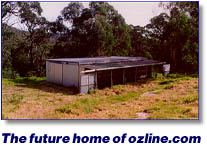 But the real story behind ozline and Web-and-Flow combines planting roots in the beautiful Australian highlands while simulatneously reaching out into a burgeoning cyberspace. In other words: "What happens when a former high school English teacher moves his family to Australia, buys 7 acres of bushland complete with a cattle shed, but doesn't have enough money left to build a house? Go with the Web-and-Flow!"
Because we love where we live and what we do, we're attempting to make the American Dream come true in rural Australia. Our first consideration in settling here was the terrific school available for our boys. With two classrooms and less than 40 students (and about 5 sheep), we know our children are off to a good start. Then, a few months back, a wandering bushwalk / jog led to the discovery of some bushland acreage that overlooks our village on one end and backs up to a nature reserve on the other. Here we feel we can enjoy being part of a friendly community while at the same time live amidst the gum trees and wildlife. Best of all, two boys can spend their youth exploring and studying nature.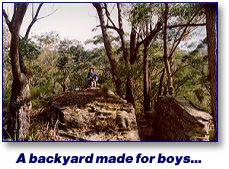 So the next step in the Am-Aussie Dream is to create a successful company through Web-and-Flow in order to raise the money to put a house on one small corner of our Eden down under. The purpose of this page is not to beg you to send us money, but to explain who we are, where we are, and what we value. By providing you with a useful and well-priced tool like Web-and-Flow, we hope the Web is the medium to make our dream a reality.