Intro · Overview · in-service leaders' tour · college prof's tour

The process: Creative Brief · Gather Links · Custom Design · Publication
---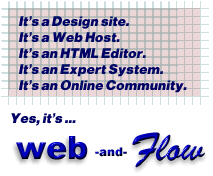 If you're not familiar with Filamentality, understanding what Web-and-Flow has to offer might be challenging. The most basic way to think about Web-and-Flow is as an interactive Website that guides you through creating your own Web-based activities, then creates the page without you ever writing one tag of HTML, and finally posts the activity to the Web for easy access by students and colleagues. If this is enough, you might try Filamentality because it also does these things. However, we've found some important ways to improve on what Filamentality does.
The best way to learn what Web-and-Flow can do for you is by taking the free trial. We also have an FAQ file for those of you who like to read before taking the plunge.
Finally, because this is the Web, you can get an overview of Web-and-Flow by poking around on the graphic below.
(Mouseover and click the four branches to learn more)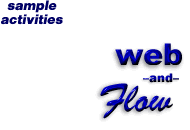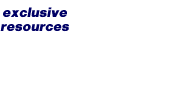 ---
Sample Activities
Web-and-Flow automates creation of the Web activity formats originally described in the article Working the Web for Education. We've updated the formats, so you can click on the names below to get the latest ideas.




---
Interactive Design Process
Research in cognitive psychology has shown that a prompting or scaffolding environment can effectively facilitate learning. Web-and-Flow uses such an environment in each stage of the design process. First, users quickly set up their own personal Web page. This is an introduction for newcomers to the Web as well as a place for other members to find out a little about you. Once you're ready to create a Web-based activity to use with your students, Web-and-Flow guides you through three distinct phases: front end design, development, and evaluation. Students of instructional design will recognize this as a standard design process.
Front End Design
During the initial phase, you'll be prompted to think about three main areas: an appropriate topic, learning gaps in the current curriculum, and a complete "What-If" inventory of the people, technology, and other resources you have available to the activity. The output of this phase is a Creative Brief that you can return to and use as a guiding vision. Aspects of the Creative Brief are automatically turned into a Teacher's Guide that will serve as a helpful link to the activity you ultimately create.
Development
The first step in actually creating your Web-based activity is to gather links appropriate to the topic and your learning goals. An online lesson called "Thinking thru Linking" helps new users understand the type of links to look for depending on their goals. Web-and-Flow will automatically sort the links you've gathered into useful activity formats. You then choose the format designed to address your learning goals, then carry on by customizing the interactive template for that format. A variety of introductions are available to speed the development process. Finally, you can edit an online rubric that describes levels of student achievement.
Evaluation
A series of Designer's Checklists exist for each format to help you make sure you've done what's necessary for a successful activity. When you complete the checklist, your activity is automatically posted to our Club Ed listserv so that others can view, use, or provide feedback on your creation. As teachers and students use your activity, they can post their comments on the Teacher's Guide linked to the activity. Because the activity is your baby, you have the ability to moderate which comments are posted as well as add your own reflections. Finally, when it comes time to use the activity again, you will have a wealth of ideas and feedback to make the revision process a loop of continuous improvement.
---
Exclusive Resources
Tom March has been writing and posting articles and training pages on the Web since 1995. These articles and pages remain available to the Web community. However, as new articles are written or major revisions are made, these are available only to Web-and-Flow members. Similarly, final drafts of chapters and books currently in the works will be accessible online to members. In addition, online help pages and tutorials are built into Web-and-Flow and they get frequent revision, whereas the pages posted to the Web get revised less often.
Registered users of Web-and-Flow also get their own Webspace for posting their activities and making updates. Future enhancements to Web-and-Flow include automatic link reports so that you can easily tell which links in your activity may have become the victims of Link Rot.
As more people create activities with Web-and-Flow we will eventually have a robust Database of high quality activities. Registered members can search the database looking for activities to use with students or for models to inspire their own creativity. Because of the Expert System built into Web-and-Flow, the Designer Checklists, and the feedback community, we expect the activities created by our members to be among the best on the Web.
Finally, by wrapping the Web-and-Flow environment within the Club Ed Online Community, our listserv is a place to share, discuss, comment on, and problem-solve issues that arise from working the Web for education.
---
Human Interactions
Web educators tend to be highly motivated people who thrive on creativity and enjoy learning. Sharing what we create and discussing what we love keep our motivation up and maintain a shared and meaningful vision. Our Club Ed Online Community is designed to facilitate learning and change. Whether you need help on a technical aspect, want to share a classroom success story, or seek new strategies for making the most of the Web, Club Ed is your forum. Also, by using Club Ed to announce newly created Web activities, we want to foster a supportive and professional feedback loop so that we can all create the best learning experiences for our students. Finally, to add sparks to the discussion, periodic realtime events will be held using new technologies. These events will be a chance to communicate and also serve as a training ground as we test out new tools.